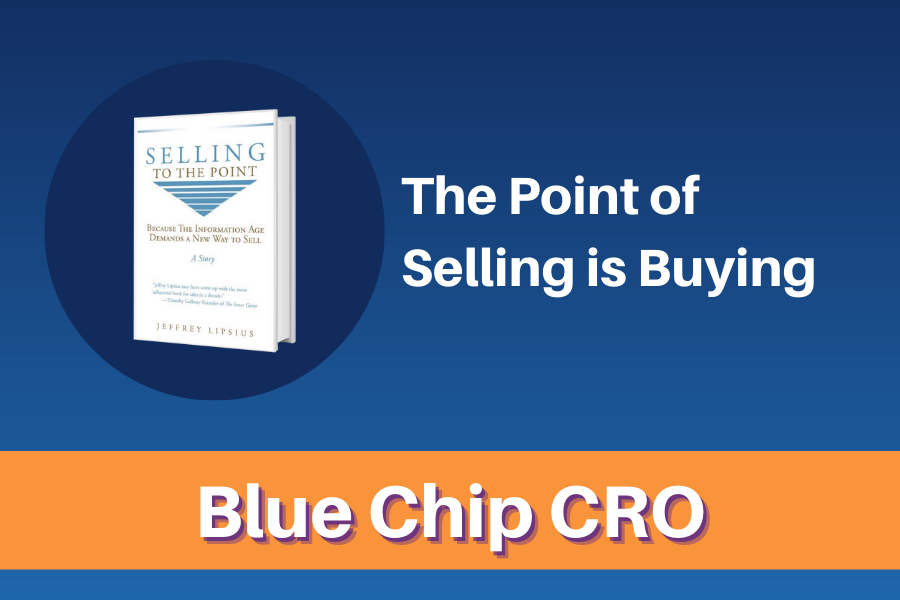 The title of my article "The Point of Selling is Buying" is a direct quote from one of the best sales books I've read, Selling to the Point by Jeffrey Lipsius. In fact, it's the first law in his 10 Laws of Selling, which is the premise of his book. As a Chief Revenue Officer, I use this perspective as my foundation with my clients to build out better buyer engagement throughout the whole customer lifecycle in each area of marketing, sales, and customer success.
Why I like this book
Not only is the content great, but every piece of the content pulls from the buyer's perspective. I love operating from the buyer's perspective. It's how I built my company and how I work with clients. We all have opinions, but we need to validate those opinions from the buyers and operate from that frame of mind.
If we start with his first law, The Point of Selling is Buying, it gets us into that frame of mind to become the buyer and disassociate from being the seller. When we embrace this, whether from the marketing, sales, or even customer success perspective, we sit on the side of the table WITH the buyer, not across the table from the buyer. This shift in thinking is the basis for how all prospect and customer conversations are driven.
Another perspective I love about this book is that it's mostly told from a sales trainer's perspective. This is a critical perspective inside an organization. It's not the sales rep. It's not the sales leader. It's the enabler of salespeople whose primary role is to arm them with the tools and knowledge to be effective. The sales trainer role isn't widely adopted. Sales enablement teams are growing, and a large part of that team is centered on optimization (through training, technology, and processes). Having this book written from this perspective provides a better position to help enable salespeople.
Finally, this book does a great job of storytelling. We have all seen the positive impacts that stories have on visualization and understanding. This book focuses on a single company that faces several challenges all resulting from improved selling experiences. I found myself glued to this storyline and curious about how things would unfold. It kept my attention all the way through.
Key takeaways from the book
– Putting yourself in the buyer's shoes. The Point of Selling is Buying, which is clearly the biggest takeaway from this book. Operating from the buyer's perspective and helping them make the best buying decisions. Understanding that buying decisions are internal decisions and it's important to understand the internal process buyers have to go through in order to make the best buying decisions.
– We often put a lot of emphasis on conducting effective sales meetings. Yes, that's important, but equally important (if not more important) is what happens after the salesperson leaves the room or calls. What does the buyer understand as they take that information to other people (peers, superiors, team members, etc)? Often the buyer has to sell to their committee and salespeople need to make sure they are armed properly, care properly, and can properly communicate the true buying parameters to other people inside their organization.
– Risk aversion is alluded to several times in the book. Often buyers take a chance on a product or service in hopes it helps their operation. There's an inherent risk if it doesn't. So buyers need to fully understand the outcome of their decision as their job performance is aligned to their buying decisions. Help them make the decision, but also communicate the outcome as well as any contingency planning to avoid poor outcomes.
– Help buyers make the best buying decisions by using the three C's…Confidence, Clarity, and Choice. With clarity, both internal and external clarity is needed. Eliminate distractions and focus on buying decisions. Distractions are anything outside of goals, wants, and needs. Anything outside of those is a distraction that gets in the way of progress.
About Jeffrey Lipsius
Jeffrey Lipsius is the President and Founder of Selling To The Point®, LLC Sales Training, and Consulting. He developed the Selling To The Point® sales training method during his 30 years of sales training experience.
Find him on LinkedIn here
Buy Selling To the Point on Amazon
Visit Selling To the Point website
Ed Porter | Fractional CRO