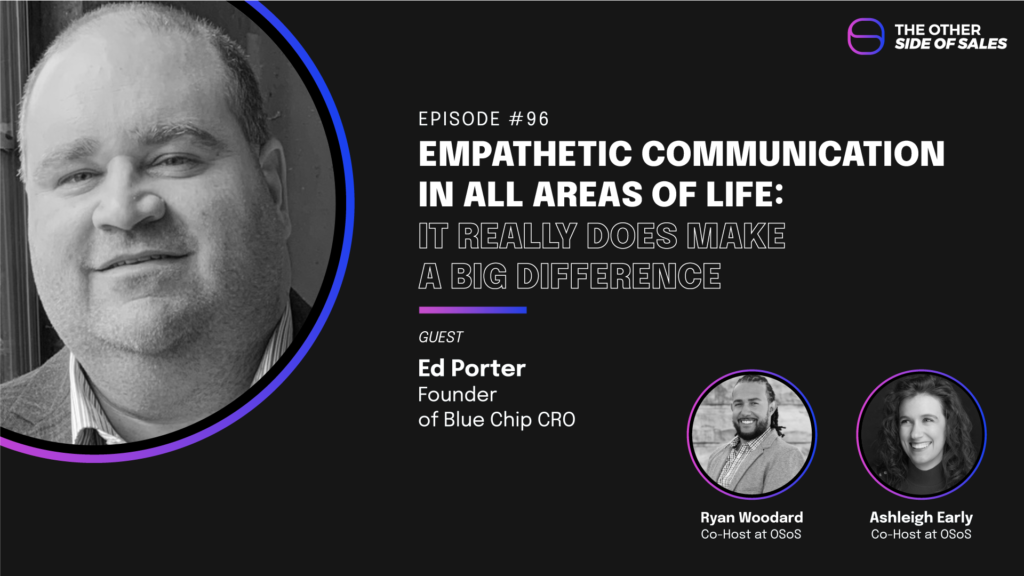 Empathetic Communication: Ed Porter is the Founder of Blue Chip CRO and a fractional Chief Revenue Officer helping companies align revenue teams and fix revenue problems. Today, he talks about how aligned revenue teams (marketing, sales, enablement, and customer success) can build accountability at every step of an organization, leading to accelerated and sustainable growth. He will also share some key sales and customer success strategies and so much more.
Oopsing into Sales
He grew up in the outsourced contact center world and by age 23 he was overseeing almost 1,100 people across several different locations.
Empowering Sales Reps
Ed highlights that companies are investing more in support and enablement geared towards supporting employees to be successful. He feels that that should go hand in hand with quarterly reviews.
Team Alignment
Sales organizations are always bound to experience friction between channel sales and direct sales teams and Ed says that solving that boils down to defining and clarifying what goes through channel and what goes through direct. He breaks down how creating a charter can help eliminate sales conflicts and ensure that every team is autonomous.
A Unifying Metric
With marketing, sales and customer success teams using different metrics to measure how well they turn leads into customers, Ed says there must a shift towards focusing more on "company leads" founded on figuring out target buyers and their needs so the company can determine whether it can provide effective solutions to the buyers.
He applies the 5 Whys in Trish Bertuzzi's book The Sales Development Playbook to guide him in viewing things from a buyer's perspective.
The Importance of Diversity, Inclusion, and Equity
He talks about his personal experience with the poor state of diversity in companies even with the strong research-based business case that proves diverse companies can win top talent and improve their customer orientation, employee satisfaction, and decision making.
Do Playbooks Work?
While playbooks may be the bread and butter for sales enablement teams, they should be about making sure that sales reps have everything that they need to execute flawlessly when they're talking to customers.
Ed Porter | Fractional Chief Revenue Officer