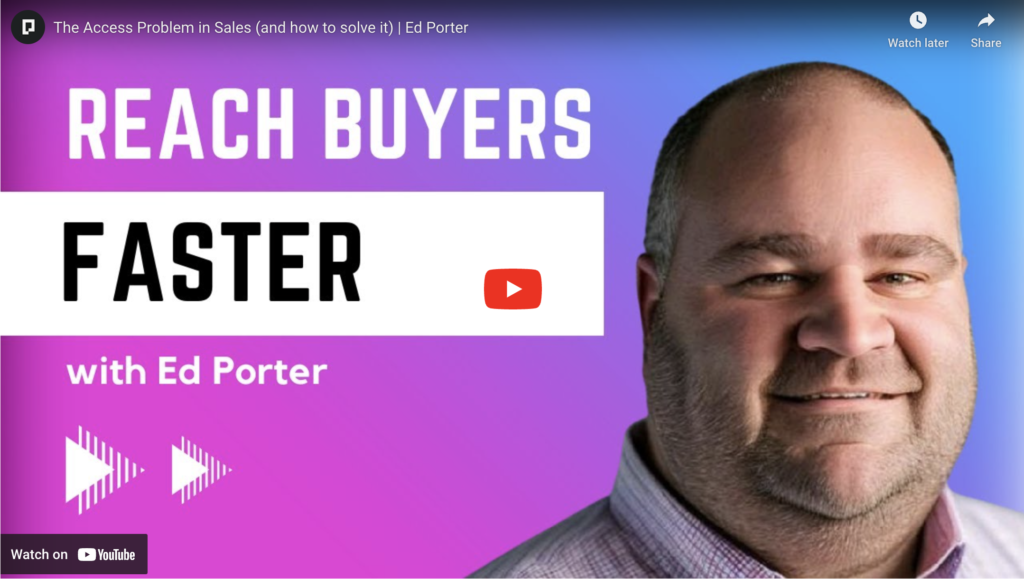 Ed Porter is a fractional CRO. He discusses experimenting with GTM strategies, onboarding partners, and partner incentivization structures. Ed emphasizes the value of being where your customers are and investing time and money into partnerships.
The problem is access, The Solution is Partnerships
Sellers tell me all the time – I can sell anything. That's great, but the problem isn't selling. It's accessing.
Decision-makers are inundated with noise. They have tons of sellers reaching out to them, trying to share solutions. And here's the truth — they don't have the time to listen to all of them. You could play the hard game and try to do everything cold, or you could find warmer ways to access your ICP.
Here's a situation that paints the picture:
You sell a SaaS solution to CMOs. Mary K. is a CMO who fits your ICP. You've cold-called, cold-emailed, and cold-DM'd, but nothing's working. So you go to your account mapping tool (Reveal or Crossbeam) and you find a partner overlap. You ask your partner for an intro and because they trust your solution, they give you intel on Mary and make the introduction.
Now you've solved the access problem and got valuable intel in the process through your partnerships.
About The Show
Welcome to The Sell[ing] Together podcast with Jessie Shipman. If you're frustrated with the roadblocks you're hitting as a sales person today, don't worry, you're not alone. Cold calling is harder than ever, cold emails have more restrictions, and buyers are informed. We will embark on a journey to discover a new approach to sales that works with buyers to build trust and solve problems efficiently. This is an opportunity for sales playbooks to evolve. Each episode will feature an expert guest who shares their insights on topics such as co-selling, lead gen, sales strategy, sales training, and more. Learn how to gain trust, create value for customers, and have faster sales cycles.Join us as we explore a new era of selling. Don't miss an episode by following the Sell[ing] Together podcast and subscribe to the weekly newsletter to get bite-sized takeaways from each episode. The Sell[ing] Together podcast is a part of the PartnerHacker network.
Links:
Ed Porter | Fractional CRO