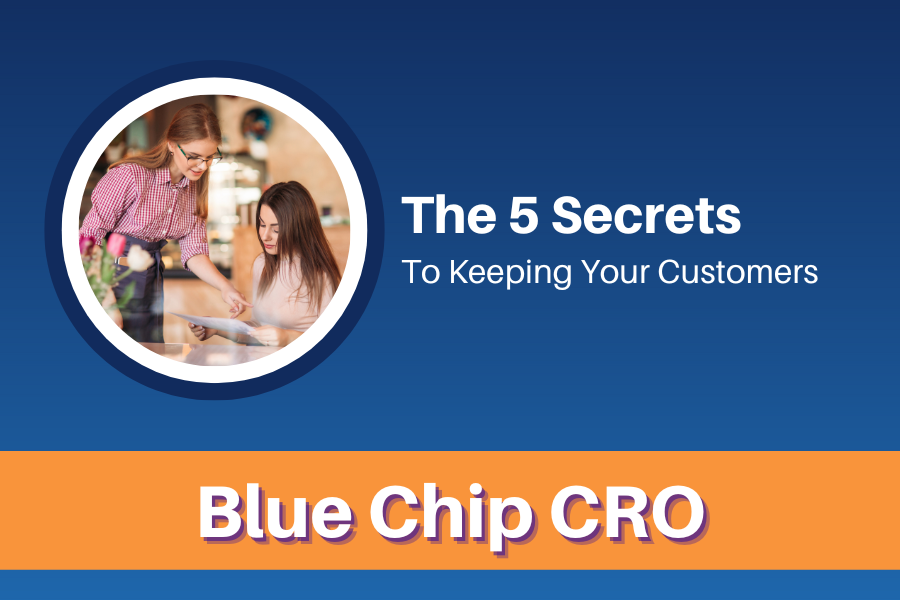 Today I am going to walk you through the 5 secrets to keeping your customers. Getting new customers is an uphill battle. Marketing and sales teams are built to focus on net new revenue. The trick is not letting that revenue slip through the cracks after customers make the decision to purchase.
This is what we'll outline here; a simple framework that can help build better customer success (CS) teams centered on getting your customer up and running, onboarding to get their time to value improved, and better ways to engage your customers through effective meetings and conversations.
1. Elevate your CS team
I'm going to pull from the phrase, "ESAT (employee satisfaction) = CSAT (customer satisfaction)." I believe that employees that are taken care of individually, have their needs met, and have a few niceties coming to them (perks, benefits, bonuses, etc) will result in better productivity outcomes. Especially for the team that handles your customers. This team isn't entry-level anymore. CS teams are often expected to be a one-stop shop for everything but with entry-level people delivering entry-level training to them.
Doesn't work.
This isn't just a feeder pool for other positions inside the company or a "learn on the job" position. This should be one of the most resourced teams inside your organization centered around the Customer Success Manager (CSM).
The CSM manages the customer relationship and often works with the support team, product team, possibly subject matter experts (SMEs), marketing team, sales team, and engineering team as needed. The CSM can't do everything, they need to do the most important tasks that build customer relationships and solve customer problems.
Work on removing remedial tasks that can be offloaded to other resources (support, interns, outsourcers) and empower and elevate the CSM to handle more strategic and impactful responsibilities.
2. Customer Onboarding and Implementation
Onboarding is often the culprit of why customers churn. Failure to launch, failure to realize the time to value, failure to utilize the complete solution, failure to solve business problems, etc. Building this process is critical in helping prevent churn and prevent potential failures to launch.
Onboarding is when you start an introduction between the company and the client team members. Find your customer champions, your top users, and your decision maker(s), and begin to get them acclimated to you and your product. These relationships early on will help identify the resources needed to get an understanding of your adoption, and successes/failures, and will help to eliminate surprises when they don't renew in the future.
Onboarding should focus on getting the customer, and the team, trained properly and realizing value as quickly as possible. Often this is centered on training and education. Prioritize that training toward overcoming problems that the customer mentioned during the sales process and quickly addressing those problems during onboarding. The kickoff call should reiterate what problems and pain point the customer has and focus on why they made the decision to purchase your product/service. Knowing that builds the foundation as you train, onboard, and engage with the team. This reason also forms the basis for post-onboarding follow-ups and engagements.
3. Ditch the old QBR
This is becoming a forced interaction between customer and company. Often filled with slide decks, small talk, and briefings. Are they helpful? Sometimes, but often just a checklist. Have a look at attendance rates and reschedule rates to see if your customer even values these.
I'm not saying that QBRs should be completely removed, but remove the old thinking about putting a QBR on the calendar that repeats every quarter with a static agenda for each meeting. This behavior becomes more of a checklist as opposed to engaging and impactful customer interaction. Plus, there needs to be an incentive for your customer to join, so they prioritize that meeting over others. That incentive is on the impact of that meeting!
The first change, remove the recurring calendar invite. Instead, replace it with a reminder on the CSMs calendar 2-3 weeks before an intended review. This placeholder gives the CSM some time to do some research and has a unique plan for the next interaction. Maybe it's a QBR, maybe it's getting in front of the client's team, maybe it's an in-person meeting (there's a thought), maybe it's a meeting where the CSM brings in the CEO, or head of marketing, or head of product. Lots of variants there to conducting a meaningful meeting with a customer. Sure, maybe you talk numbers, maybe you don't. Maybe you perform a live customer survey, or maybe not.
The second change, focus on your customer's actual business and not on the metrics from last quarter. What are they focused on this year/next year? How is the team using your product/service inside their business? What can you share with your other customers that can help your customer (communities, employee training, development opportunities, insights, trends, etc)? This shift in focus helps set agendas for conversation and brings an element of partnership into the customer/vendor relationship.
4. Integrate your CSM into the client's team meetings
This is a tip I heard from Jeff Breunsbach, host of the Gain Grow Retain podcast. Going beyond QBRs means going deep into customer relationships. This means not just having a conversation with your main contact. You may need to build relationships with a few key users, or perhaps a key champion that isn't the decision-maker on renewals. Onboarding should have uncovered these key contacts. Inject yourself into your customer's meeting schedule so you have a platform to talk about what you're seeing, ask key users how they are gaining benefit from the product/service, where they need help, what could be better, etc. Ask to be part of your customer's operational meetings.
Not every week or month, but every so often. As Jeff suggests, plan a 25-minute workshop to conduct some business and gain some perspective. Interact with the team, have some intentional takeaways and next steps, and engage with other contacts that can help their overall experience. This is time well worth the investment and takes the relationship out of email and dreaded hour-long QBRs.
5. Build an effective customer marketing program
Your customers are your most captive audience of all, why not take advantage of that? Customer marketing isn't just newsletters (side note, newsletters aren't dead. Bad content and fluff are dead, just an FYI). Customer marketing is still all about education. But, it shouldn't all be "me me me." Don't forget about what got your buyer here; how you help them solve problems. In that spirit, your customer marketing program should focus on your customer, not you.
It's great you talk about your events, but what other events could be interesting for your buyer to attend?
It's great you want to solicit your customers for NPS or to leave a review, but what about informing your customers about other solutions that other customers are using? Or great communities that your other customers belong to? What a great share!
Customer marketing should align with all marketing; written from the buyer's perspective. Customer marketing should still engage customers with pain points and problems. Solving a problem isn't just buying your product/service. It's implementing it, adopting it, and using it throughout a company organization. There are loads of problems that are solved by certain elements of your product…so talk about that in customer marketing. Content is still king in this area, and I'd argue you're competing for more inbox space here than in prospect marketing so make it interesting.
Lastly, marketing programs aren't just emails. Customer marketing also comes in the shape of engagement. Do you have a customer council? How often do they meet and what is discussed? This is a great strategy for a customer marketing program. How about spotlighting customers on social channels? Or having virtual events with customers on panels and speaker lineups? These are again great ways to engage customers as part of your brand.
It's easy to implement customer marketing programs that focus on the company. But shifting that focus to being an education source for the customer helps to get customers thinking about you more than just a product/service, but as a value add to their business.
Ed Porter | Fractional Chief Revenue Officer