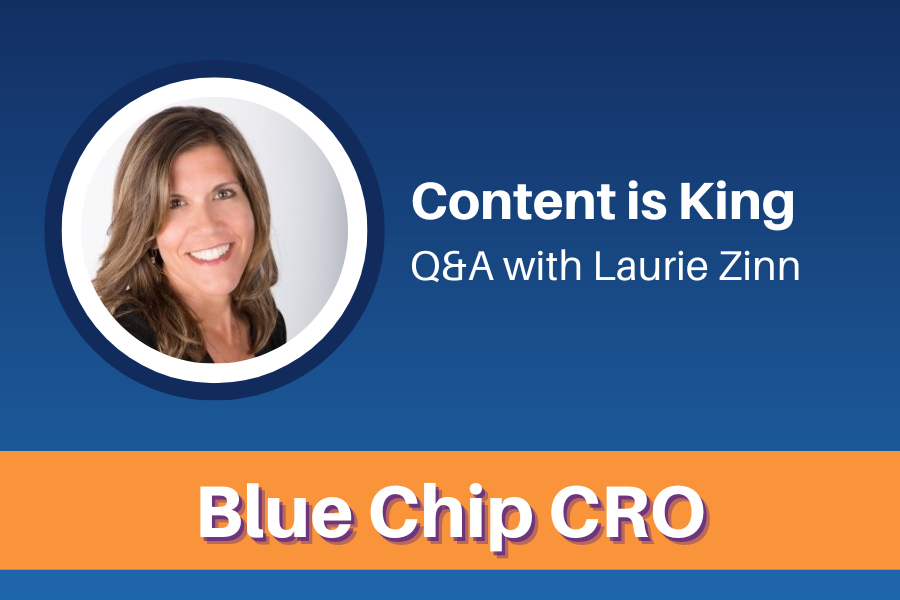 You've heard the phrase, "Content is King" right? Well, today we're going to dive into building your content strategy with copywriting expert, Laurie Zinn. Laurie is a freelance copywriter and owner of her firm, Line-by-Line, LLC.
A content strategy is the foundation of a solid marketing program for any company. Now more than ever marketers are competing for visibility. Whether digital, print, or radio/tv, the space is cluttered and often overlooked by many people (despite what all these media companies tell you). The key is to better define your target audience and stand out!
Standing out is key and this is where you summon your inner psychologist and get inside the minds of your buyers. I often follow a simple framework from Trish Bertuzzi of The Bridge Group, called The 5 Whys.
That first step of "Why listen" is where marketing really needs to focus on content. This is where we cut through the noise and get our buyers to recognize who we are and what we're saying. The copy inside the content is where the magic happens and I'm excited to hear what Laurie has to say!
Q1 You're a fan of Donald Miller and Storybrand, give the audience a high-level overview of what that is and how it guides your content development strategy.
I love Donald Miller's approach because he is all about creating clarity and avoiding confusion for the customer. He believes that if the customer tries too hard to make sense of what you're writing ("burning calories"), they will leave and go elsewhere.
He's also a big proponent of understanding your customers' pain points, clearly articulating what they are (which proves you understand them), and demonstrating how your business can alleviate those pain points and help the customer be a success. The customer is the hero of the story, and the business is the guide.
I use many elements of this strategy when creating content for my clients. Everyone wants to be heard and understood, and businesses are just people. If you show them you get it, you have a chance at earning their trust, and ultimately their business.
Q2 What are a few top mistakes you see being done today around content creation and copywriting?
One content mistake many businesses make is not getting to the point fast enough. Customers are scanners, and if they can't get the information they need quickly, they will go somewhere they can.
Long paragraphs with no whitespace, no bullet points, and nothing to break up the heavy text are another problem. Again, who is going to read all that? Give them what they want and explain the details once they are hooked.
Q3 What are a few key objectives that companies can use when thinking about their blog content and strategy?
When I write blogs for clients, we develop a blog marketing plan together. This includes the goals we have for the blogs, the target audience, the frequency, who will create and manage a content calendar, and calls to action. The best blogs, in my opinion, are the ones that answer questions your customers have asked. Not only does this provide value for the customer, but it also shows you know your stuff, creating credibility and trust.
I also recommend developing a content bank of blog topics you can write about. This keeps all ideas together and serves as a place to capture those ideas when they come to you at random times. When you're ready to write, you'll have a list of relevant topics at your fingertips.
Q4 Email marketing is everywhere, and everyone is competing for Inbox space. What are a few key points that companies can think about when creating an email campaign or newsletter strategy?
First, start with a permission-based email list. There is nothing worse than meeting someone at a networking event or Zoom call and then receiving an unsolicited sales email from them the next day. An email inbox is a sacred place. Ask permission first.
Then, be sure the newsletter has value. Offer information that is helpful to your target audience or solves a problem they have. Keep it short, make it scannable, and include links if your readers want to learn more.
There's a lot of pressure on the subject line. Sometimes that's what makes your audience decide to click on your newsletter or delete it without opening it. The subject line should identify what's in the newsletter and its value.
Q5 Why do your clients work with you on content writing as opposed to doing it themselves? What do you bring to the table that other writers may not?
Clients work with me on content for one of three reasons: they don't like to write, they don't have time to write, or they just don't want to do it. Some clients take on this part of the business until they get so busy that they need someone to hand it off to.
Writing for a business is extremely personal to an owner, especially when they have grown and nurtured it from day one. I'm sensitive to that. I ask my clients comprehensive onboarding questions about their business, industry, brand voice/personality, pain points, etc. to fully understand what they offer and how their customers benefit. My ultimate goal is to write content that "sounds" like it came directly from the owner or brand itself. And, of course, for that content to make them money.
Wrap Up
That's a wrap! Some great content here from Laurie for you to think about when looking at a content strategy. This can be done at the business level or at the individual level when thinking about building your own personal brand and content strategy.
About Laurie
When it comes to writing for your business, you have many choices. You could do it yourself by juggling other duties, delegate it to a coworker that earned a decent grade in English, or hire a professional content writer to get the job done quickly and more efficiently.
I'm hoping you choose the latter, and that you hire me.
I'm Laurie Zinn, owner of Line-By-Line, and I love creating engaging, enticing, and consistent content for businesses.
Connect with Laurie on LinkedIn
Ed Porter | Fractional Chief Revenue Officer