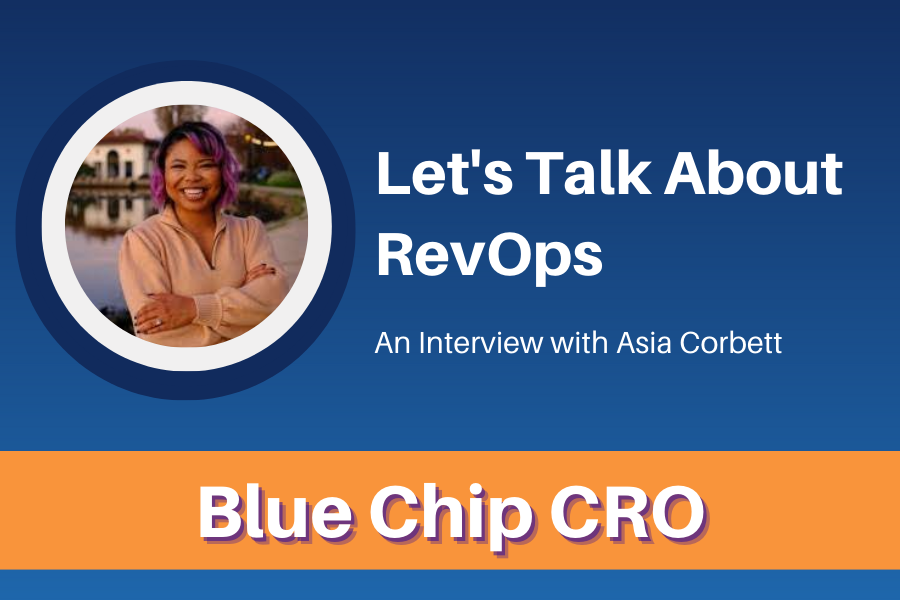 Today we are going to talk about Revenue Operations (RevOps) with someone I've gotten to know over the past year or so through an amazing organization, I'm part of called RevGenius.
Asia Corbett helped me out with a client need around Salesforce, and she did it in a matter of minutes that took me countless days and hours to attempt! So, what better person to help explain and justify RevOps than someone who lives and breathes it every day.
As a starting point, maybe you're asking yourself "what is RevOps?" If you are, that's ok, we're here to help!
Here is a good article I stumbled across recently that does an excellent job of breaking this down.
This functional area has been transforming over the recent years, started out as sales operations, then encompassed CRM admin duties, then saw the position deployed in marketing as marketing operations, then morphed into sales enablement and training, now it's taking on larger strategic responsibilities within the whole revenue organization including marketing, sales, and customer success. The value of revops continues to increase and companies who view this as a lagging, support department, are quickly struggling to stay afloat. The ones embracing this as a strategic, necessity to profit, are growing quickly and profitability and taking market share along the way!
Ok so now that I gave you the quick rundown, let's get into the interview with Asia…Ready…Set… RevOps!
Q1: Do you have a mission/mantra/definition of revops that you can elaborate on beyond what's cited in the article above from Realix.com?
A: I like that they include process as one of the core pillars of Revops. How I define revenue operations: The team/function/discipline that supports (or stewards) the processes, tools, reporting, and enablement of revenue-generating teams. All of the pillars are important, but the process is the foundation and is critical for the other parts to function properly.
Q2: How can leaders go about justifying a revops person or team? Are there certain considerations that leaders can pitch to CEOs and CFOs as part of an ROI or scalability perspective? How do you get CEOs and CFOs to buy into this?
A: Go to market (GTM) leaders should be focused on their gtm strategy and the revops team will enable them to do just that. Considerations for leaders when positioning why revops, is you don't want to scale with broken or inefficient GTM processes, you want your revenue-generating engine to be sustainable. Consider that a centralized operations team will give your leadership clarity, focus, visibility into how well their team is performing and how to scale that. There are many studies and surveys now that shows the financial impact of having or not having a revenue operations team. So be sure to include some stats as well.
Q3: Do you see revops rolling up to a CRO? COO? CFO? CEO? Does it depend? Or, that's the wrong question Ed?
A: Look, in an ideal world, Revenue Operations would report to the COO. I'm a firm believer in that. Now, the reality is: for some reason, I don't see a lot of COOs, especially in early-stage or series A B2B saas companies. Revenue Operations needs to report to an impartial executive/one who is operationally minded and really understands the revenue operations charter. So in lieu of COO, I'm a fan of reporting to the CEO directly for alignment purposes.
If you are lucky enough your CRO IS operationally minded, that's great! Revops could report to that person. I'm not a fan of the "depends". Haha, it's not as actionable.
Q4: What makes a great revops hire in a candidate? Any particular experiences or training that need to accompany a first revops hire to make this hire, and the program, successful?
A: Invest in project and process management skills. I cannot stress that enough. If I knew that I wouldn't need the salesforce admin credential to be successful at my job I wouldn't have wasted so many (painful haha) hours studying for the admin exam.
It's important to be able to understand the ecosystem of tools. But it's much more important that your first revops hire can think holistically across all the GTM teams.
So systems thinking is very important to revenue operations too.

Q5: Where do you see the future of revops going? Do you see this team diving into product development and engineering?
A: I don't see revops going to product and engineering. I DO see more companies adopting a centralized revenue operations framework. Perhaps a few different organizational structures ( sales ops, marketing ops, cs ops in one team), but for sure "teams of one" who are expected to do it all.
Well, that's RevOps in a flash! There's so much more to this bubble and I'm excited to see how this initiative continues to grow and help companies accelerate growth. Be on the lookout for more content around RevOps and some of the tactical ways it's improving efficiencies and processes. There's a lot of transformation currently happening and it's exciting to see this functional area expanding so quickly.
About Asia
Asia Corbett is an operations leader with over 7 years of experience and deep experience in revenue and business operations including roadmaping, process optimization and systems design. She is passionate about elevating and empowering others particularly those new to revenue operations. Asia believes the power of community is the key to overcoming any challenge in the business world and beyond. In her free time, she enjoys a good book, family time, hiking, rock climbing, and music.
Ed Porter | Fractional Chief Revenue Officer