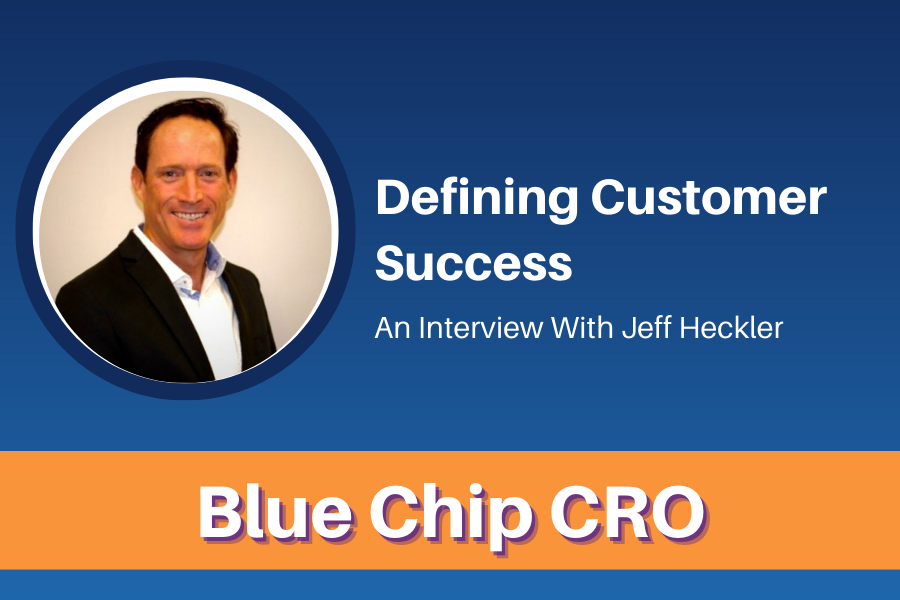 How have we been defining customer success? Customer success is an ever-changing name for an ever-changing organization. Put simply, this is a functional area that handles everything related to a post-sale customer. Even "post-sale" can be blurry as often customer-facing teams are engaged during the sales process.
To help talk about all things customer success, I've asked Jeff Heckler, Director of Customer Success Solutions at Marketsource, Inc to help provide some feedback around strategic areas he sees customer success tackling and how C-level execs and boards are paying more attention to these efforts.
Q1 Most people associate customer success with onboarding and reactive support. While those are certainly important activities, what are some of the other most important challenges you see customer success tackling?
To be an agent of change, I align the most important challenges I see Customer Success continuing to tackle in 2022:
1.) Autonomy and authority to do what is best for the customer to drive value and results for both company and customer
2.) Building data-driven stories demonstrating revenue and profit contributions and gains to the C-suite
3.) Building cross-functional initiatives, including visible stakeholder ownership to improve the top and bottom lines of our company's and customers' performance indicators and financials. The key in this framework is to be intentional in driving bottom-up results and visibility via a positive progression of metrics and customer-centric use cases.
Q2 Your blog article talks a lot about becoming a profit center and measuring what matters. Can you expand a bit more on the revenue metrics that are driving world-class customer success teams outside of traditional CSAT/NPS, health scores, retention, etc?
The entire world, especially the world of SaaS, is not only obsessed with the lagging indicators of CSAT, NPS, and health scores but everyone since last year, has become hyper-focused with tunnel vision on NRR (Net Revenue Retention).
The problem with NRR is that it's an over-romanticized, over-simplified, and over-credited view of value in the venture capital/private equity and valuation game. It allows all other very informative leading indicators to get buried and overlooked, such as; CS Contribution to Margin, Lifetime Value (LTV), Customer Acquisition Cost (CAC), Average Revenue Per Account (ARPA), Marketing/Product/Customer Success Qualified Leads (M/P/CSQLs), Time to Value, Time to Up-Sell, Time to Cross-Sell, % Referenceable Customers, CS Cost of Per Customer, et. al.
For clarity, these metrics should be evaluated not as data points, but as trends over periods of time.
Q3 Let's talk about defining the role of a Customer Success Manager. It seems this role keeps getting things shoved in front of them. Can you dive into a brief high-level job description of what the CSM is responsible for and what resources they should have at their disposal (finance, ops, product, etc)?
Before getting tactical, one must strategize.
First, we must come from the understanding that Customer Success is widely varied from one delivery construct to another. Even when given the same premise for establishing a CS org, every leader would design it differently. There are unlimited variables and options to consider.
Secondly, the resources available are dependent on the leadership (C-Suite and Board) supporting the funding, budget, ideals, and principles to be successful. Without truly supportive leadership driving the culture, priority, and cross-functional ownership necessary across the entire organization, the best CS leaders and plans will go nowhere.
Having laid all of these as the foundational keys to CS success, in the simplest of definitions, the CSM should be empowered to drive value in the best interest of the company and the customer within the most proactive and productive frameworks possible.
Q4 In a previous blog post you wrote "Making Sense Of Customer Success," you talk specifically about "The People Factor." Can you chat more about what makes a successful CSM and some of the top traits and skills that make successful CSMs?
This is a topic I am extremely passionate about!
Most recently, I have published content (videos and blogs) you can find on www.marketsource.com and my LinkedIn, outlining the power of hiring non-traditional CS profiles and the beauty of working within PeopleOps teams.
To start, the most successful CSMs are individuals who are self-managing, technologically curious, process-oriented, data diving, and ambitious.
A very important and valuable gift is to be able to motivate and influence others, especially third parties, by building consensus and ownership. CS leaders have a very important role to play. They are responsible for building the vision of a CSM's role that is directly tied to the highest-level corporate performance goals. Every CSM should be able to relate how their individual daily activities lead to the financial performance of their organization and company.
Q5 How do we know how much to invest in CS as compared to sales? On many fundraising pitch decks, there's always an allocation for "sales and marketing expenses."
Sometimes that includes CS, sometimes it's the cost of an operation (cost vs profit center). Is there a relationship that can be made between investments in sales compared to investments in CS?
The first bombshell I drop to leadership teams, investors, boards, and C-suites is this: Have you examined your Sales and Marketing spend relative to your spending on Customer Success?
Furthermore, have you evaluated this spend versus the metrics I outline in Question #2? Depending on the GTM model, CXOs and Boards should reflect on the equity of spending on their S&M teams relative to the cost of retaining and up-and cross-selling to their existing customer base. This framework is no more pronounced than it is in the world of SaaS where Product Led Growth rule the day.
In the post-Covid world, retail, manufacturing, CPG, and travel & hospitality have had to learn these lessons the hard way.
So there you have it! A quick start to understanding and defining customer success from a strategic perspective and how companies are using this to win the revenue battle. I encourage you to continue down the path of research to understanding customer success.
There's a great book available called "Customer Success: How Innovative Companies Are Reducing Churn and Growing Recurring Revenue" by Nick Mehta. This is a wonderful starting point, but keep in mind it's also 6 years old. We are defining customer success differently and a lot has happened since then, but this will give you a great foundation to start building from!
Thanks for reading and if you liked today's blog post follow me on LinkedIn for daily content and the occasional joke.
About Jeff
Jeff Heckler is a senior Customer Success leader with over 20 years of running customer-facing revenue teams for such organizations as SAP, Accenture, and Stanford University. Jeff is the Director of Customer Success Solutions for MarketSource, Inc., a leading global provider of Sales and Customer Success innovation and solutions.

Jeff is an author, advisor, speaker, and recipient of numerous industry awards. Most recently, Jeff has been recognized as a "Top 25 Global Customer Success Influencer, 2021" (SuccessHACKER), and named "One to Watch in SaaS, 2022" (The Future of SaaS).

Jeff serves on the Board of Advisors for The Customer Success Performance Index™, the Product Advisory Board for Cast. the app, and is the Principal Thought Leader – Digital CS for Practical CSM.
Be sure to follow along with Jeff on LinkedIn!
Ed Porter | Fractional Chief Revenue Officer