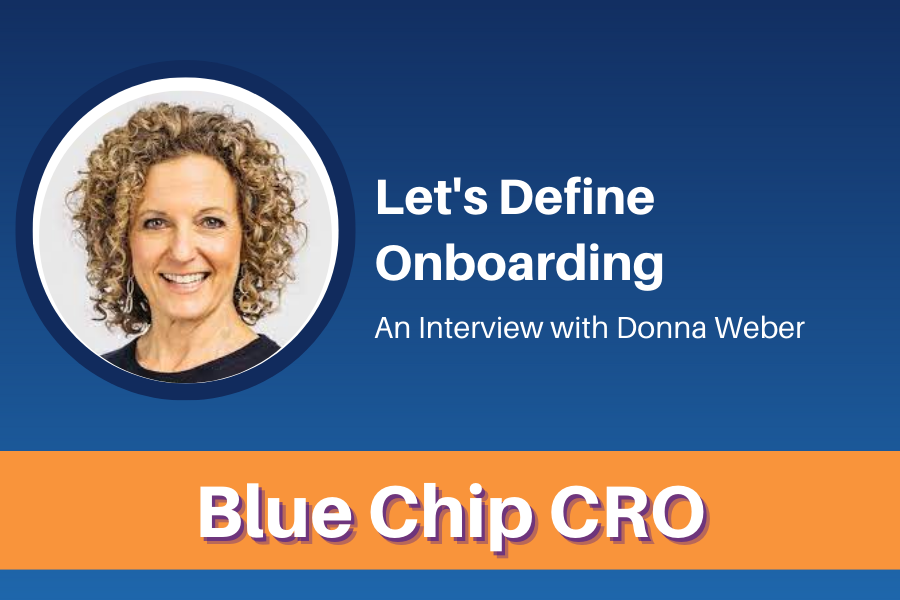 How would you define onboarding?
Onboarding…sounds like torture.
That's the first thing I thought about when I heard this term at the start of my career. I have no idea why, but I envisioned that scene from The Goonies where the kids are walking the plank off the pirate ship (shoutout to Chester Copperpot for having an awesome pirate name, btw).
Now that your face has that confused look on it, we can move on to talking about properly defining onboarding, at least from a customer perspective.
To do that, I wanted to get some insight from the customer onboarding guru herself, Donna Weber. I met Donna on a webinar talking about customer success. I connected with her on LinkedIn and tried to get her to come to a conference where I was facilitating a session on customer success. We almost made it happen…enter COVID, the conference got canceled. Since then, I've followed along with her content and was happy she wrote a book, Onboarding Matters.
Q1: How did you wind up in customer success, and specifically becoming the guru on customer onboarding?
I launched Customer Education and Customer Success organizations from scratch at several hi-tech startups. While leaders and teams fixated on improving the sales and marketing engine or the next product release, I found myself always asking, "what about the customer?"
Six years ago, I started my boutique Customer Success consulting firm and saw a gap that seemed obvious to me, while others weren't talking about it. I jumped into onboarding because it's so critical to start customers off right, at the very beginning of the customer relationship.
Q2: Tell us how you came up with Orchestrated Onboarding™ and how it helps to accurately define what should or shouldn't be done during post-sales customer execution.
I realized that customer-facing teams are siloed and focused on going live with the product rather than delivering customer value. At my last company, I seized the opportunity to lead a cross-functional team to focus on customers and that's where the seeds of my Orchestrated Onboarding framework were defined. While working with dozens of high-growth companies across the globe I refined the framework into the six stages of Embark, Handoff, Kickoff, Adopt, Review, and Expand.
Q3: How have you seen customer success develop over the years? Have there been a few catalysts that have forced this migration from a reactive and tactical functional area to a proactive and strategic functional area?
As with any startup, Customer Success started with generalists running around doing everything, changing hats at a moment's notice. As a result, Customers Success 1.0 was more reactive.
However, as we mature, teams are starting to specialize. You see Onboarding Teams, Customer Success Operations, Customer Success Engineers and Architects, as well as Customer Success Managers. This is Customer Success 2.0 and we move from reacting to being proactive.
Now there's talk about the next stage of Customer Success, which is the need to scale. That becomes more possible with the appropriate technology, including the new category of onboarding software vendors which arrived on the scene over the last few years to improve and scale onboarding.
Q4: What are some of the key actionable items that organizations can do today that will have an immediate impact on better customer onboarding?
The first area to focus on is delivering value to your customers. Since onboarding is so much greater than going live with your product, explore what matters to customers and how you can shorten the time it takes to reach those "matter moments."
Delivering value starts with listening to customers. Find out what they want and need. What are their goals and the outcomes they want to achieve because they use your product?
Q5: Can you talk briefly about how marketing and sales teams can use experiences from customer success and onboarding to help build better customer profiles?
As software products become commodities, it's the customer relationship that sets companies apart. When companies can deliver that relationship and not just sell to and onboard companies but rather engage with the people in an account, there's an opportunity to create a seamless customer journey that starts even before the deals closes.
Thanks to Donna for this quick trip down customer success effectiveness and how they can define onboarding. Her focus on customer onboarding speaks volumes about how companies are shifting from reactive mode to proactive mode by implementing a well-designed customer onboarding program.
Donna talked about silos occurring and how to remove them. Customer success is your gold mine in how you are solving customer problems with your product/service. Those are the most valuable insights that need to be shared with marketing and sales. Go find customers struggling with these problems, and here's how we solve them…with specific customer data to prove it!
What a great circular reference!
About Donna
Donna Weber wrote the book on customer onboarding. Author of Onboarding Matters, Donna is a recognized Customer Success thought leader, influencer, and strategist. She specializes in helping high-growth companies create customers for life.

Companies that work with Donna decrease time to customer-first value, increase customer lifetime value, reduce implementation time and costs, product usage and adoption, and scale Customer Success organizations. She is the best at helping companies define onboarding for themselves.

Donna is an expert, author, and speaker who gets to the heart of the matter. She is passionate about helping customers reach their goals because when customers win, you win. It's that simple.

Contact Donna for a short chat.

https://calendly.com/donnaweb/quick-chat
donna@donnaweber.com
www.donnaweber.com
Ed Porter | Fractional Chief Revenue Officer