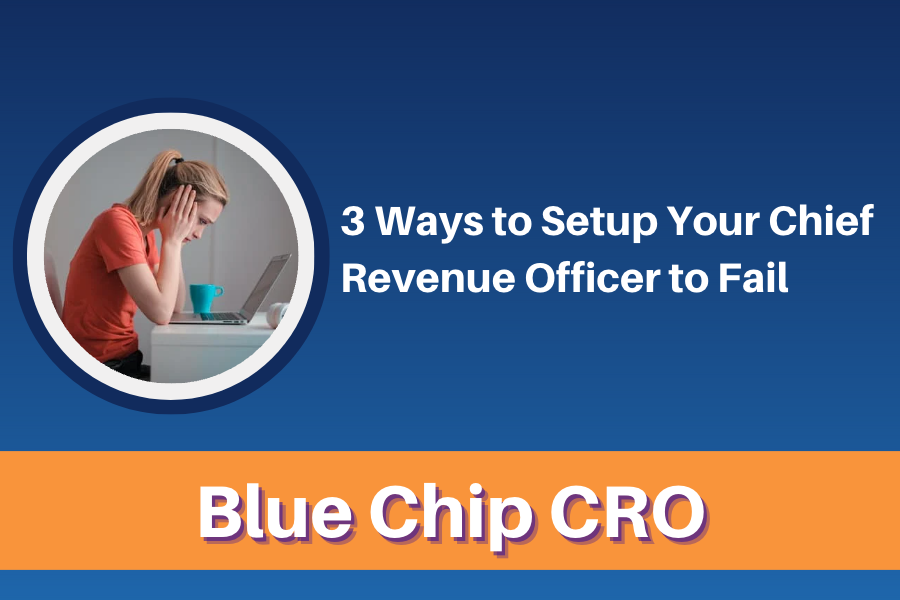 A chief revenue officer will fail if the position isn't defined properly, used properly, and hired properly.
A chief revenue officer is a high-level executive responsible for overseeing a company's revenue-generating operations. This includes developing and executing a comprehensive revenue strategy that aligns with the overall goals of the business by identifying new revenue streams, optimizing existing ones, and ensuring that the company's sales and marketing efforts are aligned with customer needs and market demands. Alignment is key and this role needs to own the full buyer lifecycle.
To be successful, a chief revenue officer must have complete ownership and accountability for sales, marketing, customer success, and other functions like partnerships or business development. For the sake of distinction, I'll use "sales" to mean activity involved in working an opportunity and "business development" to mean activity involved in generating an opportunity.
Companies have fallen victim to several traps when hiring a chief revenue officer. Timing is critical for this position. Hiring too early, and you burn cash without proper resources to let the chief revenue officer build their teams. Hiring too late, and you risk your teams operating in silos and working against each other, sabotaging growth, and customers, in the process.
Below are three sure fire ways to setup your chief revenue officer for failure!
Failure #1: A Chief Revenue Officer is Only Responsible for Sales
I see this too often and companies have just changed the name of Chief Sales Officer to Chief Revenue Officer. That's bad form. Leading sales teams is certainly a key requirement, but the responsibilities go far beyond sales. While there is some overlap between the two roles, a chief revenue officer's focus is more customer focused and more strategic, encompassing all customer facing roles. In accomplishing these responsibilities, this role must own all revenue generating roles.
Failure #2: A Chief Revenue Officer Closes Deals
This happens with startups when hiring this role too soon. Overloading the roles with tactical responsibilities diminishes it drastically and results in much higher costs. The sales team members (ie account executives and business development reps) are the tacticians that are responsible for executing the sales strategy. This role needs to think strategically, not act tactically. In this strategic thinking, the role needs resourced properly to build the teams inside the revenue organization so they can focus on execution. Hiring a strategic position to perform tactical work is a recipe for failure.
Failure #3: A Chief Revenue Officer is Only Focused on Increasing Revenue
This might sound counter to the title, but revenue growth is just one of the key objectives. To achieve revenue growth, the whole company must be aligned in harmony. This role is the liaison between the CEO, the finance team, the product team, the operations team, HR/legal teams, the IT team, and other key functional roles. Often it enables alignment across the organization to ensure that all parts of the leadership team are in harmony. Cross functional leadership is a requirement of this role to enable revenue acceleration. Yes, the CEO is to be doing this as well. But the CEO can't be involved in the day-to-day workings between the executive leadership team. This role has a broader scope in departmental control and needs to be the cross functional manager with the COO, CFO, and CTO/CIO.
TL;DR
A chief revenue officer will fail if it is not used as a strategic executive responsible for driving revenue growth through a comprehensive revenue strategy that aligns with the overall goals of the business. The role is more than just increasing revenue, and it requires a broad skill set and a deep understanding of the market, customer needs, and the ability build cross functional relationships throughout the organization. This is a strategic role that is accountable for all facets of customer facing functions. The role needs the resources, authority, and autonomy to focus on strategy and investing in technology, teams, and experts to execute that strategy. Not all growing companies need a chief revenue officer. Build the tactical engine of individual contributors and front-line managers until it makes financial sense to add more layers.
Ed Porter | Fractional Chief Revenue Officer